Chincoteague Vacation Rentals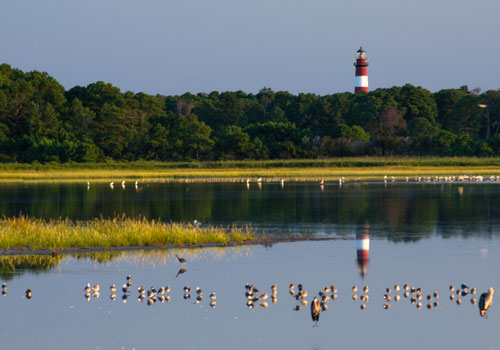 Browse over 100 Chincoteague Rentals, all at the Best Rates
Welcome to beautiful Chincoteague Island! Are you ready for a vacation away from the big city and crowded beach resorts? A Chincoteague Vacation Rental mean that there are no high-rises, boardwalks, or traffic jams to interfere with your relaxation. We offer beautiful rentals to fit any family size or group gathering, all at the lowest rates around. Check out what we can offer you today!
Seaside Vacations offer so many wonderful vacation home rentals from Chincoteague Island to the Mainland. Select from our large choice of Chincoteague Waterfront Vacation Rentals or Rentals with Pools.
And let's not forget our 4-legged Family Members - we have a great selection of Pet-Friendly Vacation Rentals as well! Browse our large selection of home and condo rentals below and...discover the Seaside Vacations' Difference today!
Sort by: Random

Random

Name (ASC)

Beds (ASC)

Beds (DESC)

Sleeps (ASC)

Sleeps (DESC)

Price (DESC)
$152.00 - $488.00 /Night

5 Bedrooms
2 Baths
Sleeps 12
31 Views

$165.00 - $494.00 /Night

4 Bedrooms
3 Baths
Sleeps 8
30 Views

$128.00 - $413.00 /Night

4 Bedrooms
2 Baths
Sleeps 10
16 Views

$170.00 - $476.00 /Night

5 Bedrooms
5 Baths
Sleeps 10
38 Views

$127.00 - $406.00 /Night

3 Bedrooms
2 Baths
Sleeps 8
30 Views

$70.00 - $166.00 /Night

2 Bedrooms
1 Baths
Sleeps 6
25 Views

$200.00 - $615.00 /Night

5 Bedrooms
3 Baths
Sleeps 10
32 Views

$100.00 - $333.00 /Night

3 Bedrooms
2 Baths
Sleeps 6
41 Views

$355.00 - $1,067.00 /Night

4 Bedrooms
4 Baths
Sleeps 8
23 Views

$85.00 - $245.00 /Night

3 Bedrooms
1 Baths
Sleeps 6
14 Views

$42.00 - $138.00 /Night

1 Bedrooms
1 Baths
Sleeps 4
16 Views

$42.00 - $138.00 /Night

1 Bedrooms
1 Baths
Sleeps 4
29 Views
Chincoteague Island is a serene, yet fun-filled, tourist destination, and is Virginia`s only resort Island. Located on Virginia's Eastern Shore, we are within easy reach from all major cities on the mid-Atlantic seaboard. If you're looking for a place to relax, rejuvenate, and reconnect with those who matter most, our little Island is the place for you!
Known for our famous Wild Ponies, Chincoteague offers a relaxed atmosphere and the beauty of unspoiled nature. From playing in the sun on the beach to viewing a spectacular sunset over the Chincoteague Bay, there is never a shortage of things to do here in paradise. We hope that you will fall in love with our Island, the way so many others already have.
And here at Seaside Vacations, we understand that it's not just about finding a place to lay your head night - it's about planning a Vacation Experience that will not soon be forgotten! Check out our complete Chincoteague Vacation Guide for things to do, places to eat, and of course, shopping.
You can enjoy Historic Downtown, take a scenic boat tour, or frolic on the beach at Assateague National Seashore. Take a hike to the Assateague Lighthouse and search for our Famous Wild Ponies. Spend the day fishing in Chincoteague Bay or visiting our quaint shops downtown. There is so much to do, you won't know where to begin!
Call us today to book a Chincoteague Island Vacation for your family - whether you can get away for just a few days, a week, or even longer, we are here to help you make the most of your time in paradise.