Looking for something different to do this St. Patty's Day? Make it a beachy St. Patrick's Day with a getaway to Chincoteague Island or Ocean City, Maryland! There's something about a little Spring in the air, a little Green in your cup, and hey, aren't we all Irish for just a few days each March?!
Search for the Shamrocks
If you're on the Hunt for some Shamrock Fun, each year the Chincoteague Historic Main Street Merchants' hosts 'Search for the Shamrocks' on March 18 and 19th! This 2 day event is the perfect way to get out and enjoy some fresh air while searching for clues to our riddle! Main Street will be filled with Leprechauns and other amusing St. Patty's characters, so grab your playing card and visit participating merchants to pick up your clues. Businesses give out candy and other goodies as you search for your Pot of Gold ~ here at Seaside Vacations, we're known for our Irish Punch or Irish Coffee – yum! Once complete, cross the finish line to be entered into prize drawings that include getaways, gift cards, artwork and so much more!! Costumes are optional but definitely add to the fun!! It's a fabulous way to get to know our Little Island by the Sea, and all it has to offer!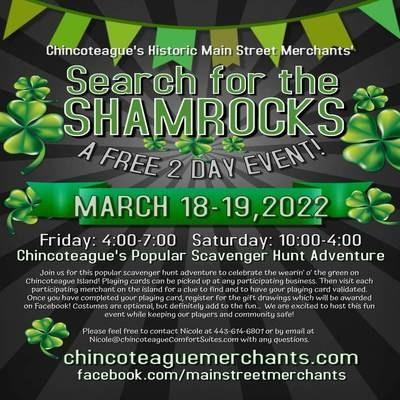 St. Patrick's Day Parade and Festival
Are you a sucker for a good Parade? Then you'll definitely want to head to OCMD for our awesome Annual St. Patrick's Day Parade and Festival on March 12th! People come from near and far for this super fun Parade with over 100 entries from 3 states. The Irish Festival follows the Parade at the 45th Shopping Center. Grab your green everything and join us for music, dance, food, and drinks! Stay in one of our Oceanfront Condos, and walk to all of the shenanigans!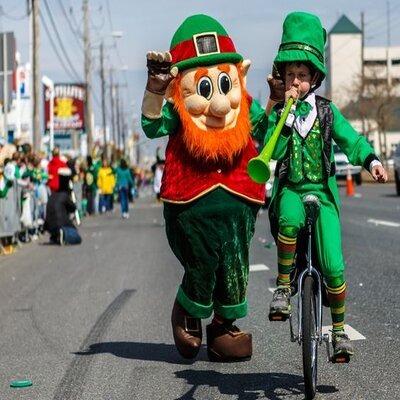 Nature Sightseeing on the Eastern Shore
While you're here, you'll want to visit Assateague National Seashore and search for our famous Wild Ponies. You can visit Assateague from the Virginia side OR the Maryland side, so it's a must regardless of which town you're visiting! Not only do our Ponies seem to be out and about more this time of year, you'll discover other Off-season beauty like Snow Geese, the Snowy Owl, and maybe even a Seal if you're lucky! Learn about our history at the Visitor Center, or climb to the top of Assateague Lighthouse on the Virginia side for a View you won't soon forget.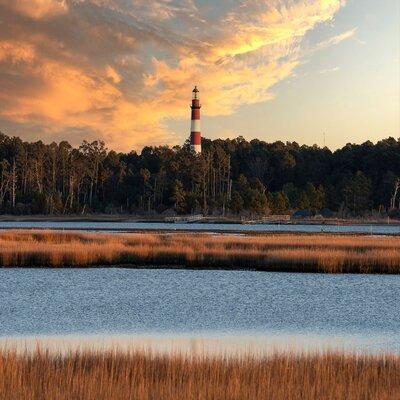 Springtime at the Beach
St. Patrick's Day is Spring's way of announcing that Summer is on the way! Take a stroll on the Beach to take in that salty, sweet sea breeze – and bonus, the shelling is awesome this time of year thanks to a few Winter storms. Shops are still running their off-season sales, and you won't believe the specials many Local Restaurants run this time of year. Want to do your own cooking with an Ocean View? Staying in a Chincoteague or Ocean City Vacation Rental truly lets you "Live Like a Local" – sooo much better than a hotel.
As always, our Guest Experience Specialists are here to help you plan the perfect getaway – we know all the ins and outs – we've got you covered! AND, all Seaside Vacations' Guests enjoy Free Early Check-in and Late Check-out this fun-filled weekend! Make your own Luck o'the Irish this March – get lucky with a Green Beach Getaway!