When you think of the Beach, you usually think about Summer Days, hot sand on your feet, and the occasional crowded weekend, but there's so much beauty and magic at the beach in the Winter! With fewer crowds, the world is your Oyster (pun intended)! During the Winter months, there's plenty to find and see on Chincoteague & Assateague – everything from migratory birds, seals, and Snowy Owls, to shell treasures as far as the eye can see!

While we're normally "Summer people", we think that Wintertime is the best time to do some Beachcombing – especially after a good storm. Close to low tide, stroll out past the point on the South end of Assateague or closer to The Hole on the Northside of the Beach, and you usually can find a treasure-trove of untouched shells, sea glass, and sometimes even shipwrecks uncovered from the surf. It's the perfect time to enjoy a Family weekend at the beach!
On a Winter Saturday, we bundled up and headed to the OSV (Over Sand Vehicle) beach on the Chincoteague side. We drove down past The Hook, where you can only go at the lowest of tides, and found some of the most pristine and largest Whelk Shells we've ever seen! We had tons of fun collecting all kinds of seashells from Scallop shells to Slipper shells and even happened upon some sea glass! We were even lucky enough to catch Buoy #8 washed up a little off course, after a recent storm. Even if you don't have a 4 WD vehicle, you can talk a long Winter walk on a sunny day, and find the same treasures – be sure to bring a bag to carry your collection!
Because Chincoteague is a Barrier Island, coupled with how the surrounding shoals are constantly moving, there have been hundreds of shipwrecks off our coast.
A recent storm in late 2021 unearthed an Oyster boat from the 19th century! For hundreds of years, this skiff has been buried in the sand on the South end of Assateague Island, with thousands of people going across it each year, completely unnoticed. Currently, the theory is that this oyster skiff went out in the Winter months and was likely capsized by rough waves or bad weather, and pushed onto the shore.
Underwater Archeologists from Virginia's Department of Historic Resources will be returning in the Summer to find out more about this wreckage to help continue adding to the rich history of Chincoteague!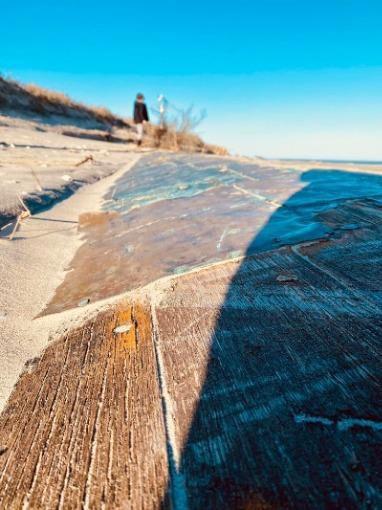 Winter is also a great time to view the Ponies! You can typically find them hanging out in the Marsh as you drive towards the Ocean or on the Wildlife Loop. If you take a closer look on your drive through the Refuge, you might catch other animals such as Otters, Fox, Herons, Bald Eagles, and many migratory birds. Several hiking trails throughout the Refuge offer beautiful views and a wonderful opportunity to view all of Chincoteague's abundant wildlife.

Whether you're bundled up in the Winter or applying sunscreen hourly in the Summer, there's no bad time to visit the Beach here on Chincoteague! One thing is for sure though, make sure you stay long enough to enjoy the golden tones of Dusk turn to beautiful pastel Sunsets.